Much like the maligned mobile, you don't see many screens as an element of decor in many homes these days, but I'm not really sure why they ever fell out of favor.  For one, they're often a beautiful way to divide up a room; whether it's to hide a cluttered desk, a wet bar, or serve another cozy purpose.  I think you can also take a bolder risk with a screen than you would with drapery or wallpaper.  It's not quite as permanent and overpowering because of it's smaller footprint in a room, and the fact that it's so easily moved.
So while this particular art deco screen employs the ultra-luxe materials of weathered gilt and black lacquer, it's not the sort of thing that pushes a room into a tacky, bachelor pad territory.  In fact, I find it quite elegant in the way it has such a hard, flat surface balanced with very organic and playful imagery.  You might say this Art Deco screen couldn't quite leave Art Nouveau behind, but is a piece in transition.  It has just enough of that touch of whimsy to be fun, even though it looks quite regal and serious on first glace.  It reminds me of the mashup of spirals and geometric shapes in Gustav Klimpt's masterpiece mosaic, the Tree of Life, which sadly resides in the completely stunning yet closed-to-the-public – or shall I say, withheld from the public – Palais Stoclet in Brussels.
With luck, we'll see the sage room screen make a return to glory – it sure seems like a category ripe for innovation.  Screens are about as simple as you can get from a construction point of view, so they are a perfect canvas for designers and artists to showcase their work without having to get the specialized skills of a carpenter or upholsterer.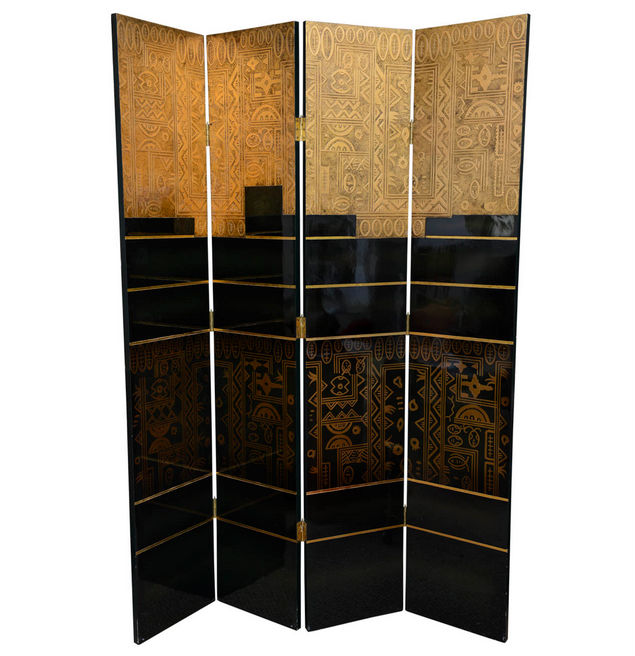 Available at Galleria d'Epoca in Miami