There's something so right about the combination of Asian imagery and art deco design, and these bookends by the famed French sculptor Pierre Ernest Bouret demonstrate why.  Asian design has a long heritage of minimalism paired with natural qualities, so in many cases, art deco is a kind of modern take on that same design philosophy that the Japanese and Chinese in particular have mastered over centuries.  The bold use of scarlet red pays tribute to the classic look of Chinese carved cinnabar lacquer, and make these art deco bookends especially unique.  The patina, especially on the male figure is spectacular and adds a tremendous rich quality as well.
Available at Paul Stamati in New York.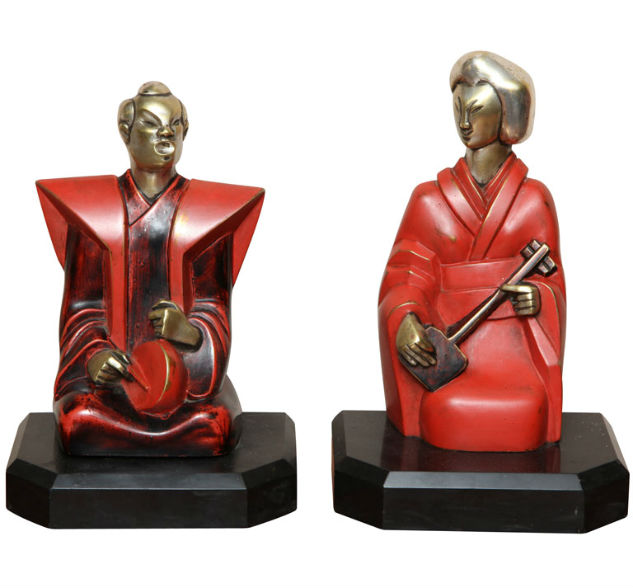 As much as art deco embraces naturalist themes and often simply abstracts something beautiful from nature, every now and then only the defiantly machine-age will do.  These ultra-modern bookends fit the bill nicely; the hard black steel and bright nickel finish create a wonderful contrast, while the circular and spherical elements soften their look just enough to work in a home setting as well as an office.  Despite the hard quality to the design, there's something really friendly about this piece that particularly appeals.  These were designed by the incomparable Walter Von Nessen, a famed modernist who immigrated from Germany to New York in the 20s, and is perhaps best known for his work with lamps.
Available at Lush Life in Dallas, Texas.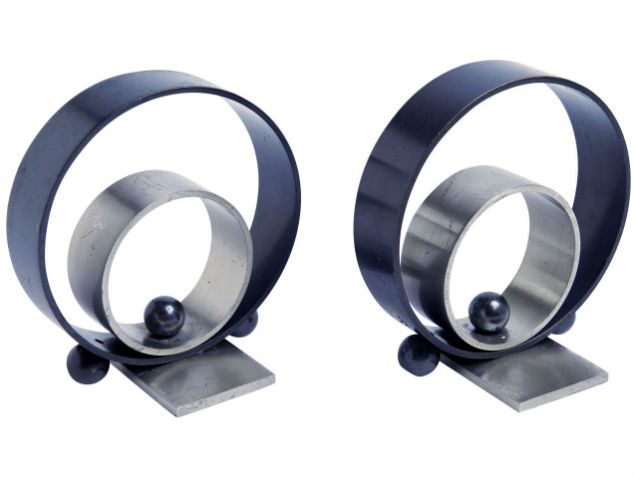 I completely love the chunky, raw quality to these art deco bookends, but while they might look like weighty granite, they're actually ceramic with a trompe l'oeil glaze.  Look closely and you can see the craquelure surface on the top of the pieces.  The geometric sensibility is classic to Marcel Guillard, the famed French designer who made these, and hundreds of other pieces at the height of the art deco period.  There's so much to love about these – the jousting riders, the delicate, exaggerated hilt on the sword, the bulbous shield, the clean, sweeping design lines, even the thin legs of the riders with their pointy feet add such a rich layer of interest.  These are sadly quite pricey, otherwise I'd have them on my own shelf and I'd be just as likely to admire the bookends as contemplate a book from the shelf!
Available at Kelly Gallery in New York.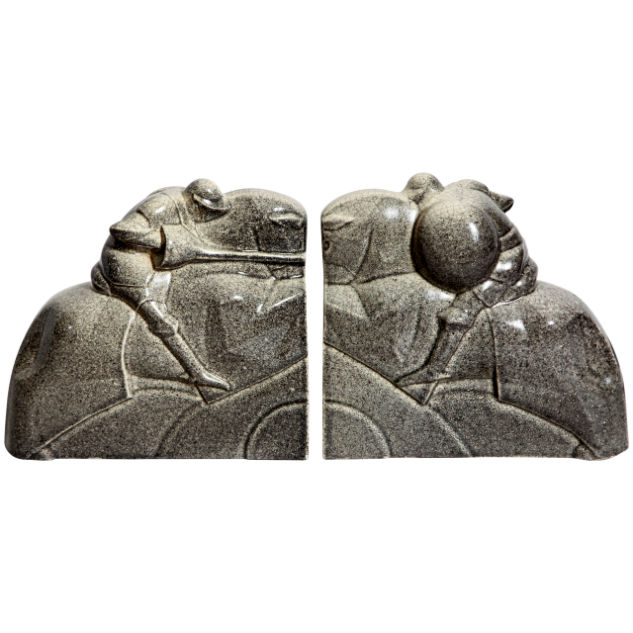 These jewel-like art deco bookends of cut glass aren't antiques at all, in fact they're more hot-off-the-presses from the expert glassmakers at Ghiro Studio in Italy, but that doesn't diminish their appeal at all in my book.  As any follower of this site can tell by now, I'm a huge fan of asymmetric design and these irregular pieces are perfect examples of why this approach to design works so well.  The haphazard facets catch your eye and add a layer of beauty to something that's otherwise quite basic.  These would be ideal to hold my collection of vintage cocktail and modern cocktail books; they're perfectly reminiscent of perfectly clear, sculpted ice.
Available at Lost City Arts in New York.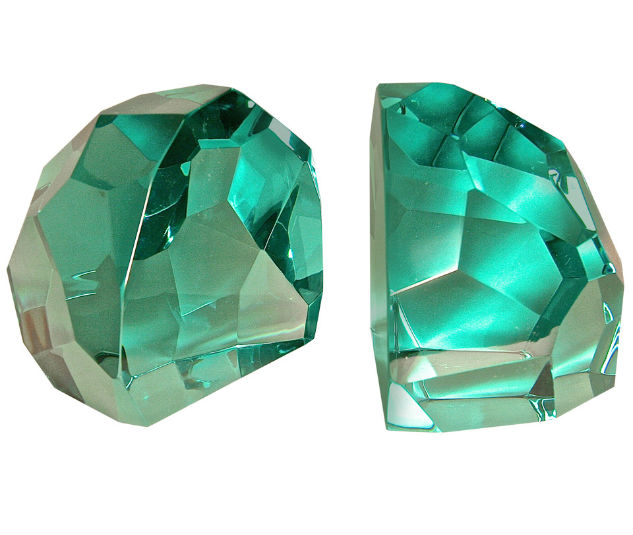 These polar bear art deco bookends are a bit worn around the edges, but it gives them some undeniable character.  The real appeal for me though are the sleek, bronze bears.  Polar bears are a recurring animal in art deco design that you can find in cocktail shakers, ceramic figures, and other classic pieces.  They work nicely because they have a clean and modern look but still seem warm and friendly.  Of course, that's not what I would expect if I were to actually face one of these ferocious creatures in the wild, but from a design perspective they're a great marriage of naturalism and minimalism.
Available at Art Deco Collection.com